This Model is based on a typical Mid-Atlantic coast sea going Menhaden (name of the fish) fishing trawler which was part of the Menhaden Fleet based out of Lewes, Delaware. The original Plans were based on those found in the now defunct Winter 1987 U.S. Boat and Ship Modeler.  Interest in this model was been revived in recent years. 
61" x  11-3/16"            1/24 SCALE
Partial Fittings Package – Door, Ports, and Crew "FUTURE RELEASE"
The white gel coated fiberglass hull features the following:
The two top rub rails are molded in place

Name boards on each side near the bow

8 scupper opening locations on each side

Hawse ring locations at each side at bow

2 chock openings near stern

Rudder location

Molded in waterline location

Fiberglass Deck
HMB-72
PRICE:  $ 575.00
Also available are gel coated fiberglass models of the Purse boat and the Striker boats.  That's right in the 1920's the peak of the fleet fishing the method used was that of a Purse Steiner as identified (Right).
The smaller striker boat maintains the far circle of the net, while the purser boats close the ends of the net, The booms of the bunker boat will attached to the ends that the purse boats are pulling and a third winch will pull the purse – that is a wire that will close the bottom loop. There were many methods for getting the captured fish onto the deck for processing.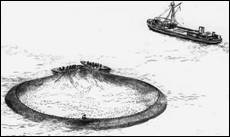 (Purse Boat-17-3/16" x  3-1/2")  HMB-72A
PRICE:  $ 32.50
HMB-72B  (Striker Boat-7-9/16" x  2-3/4")
PRICE:  $ 22.50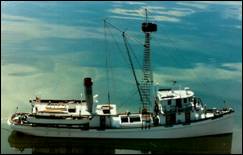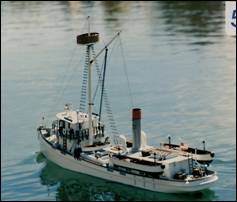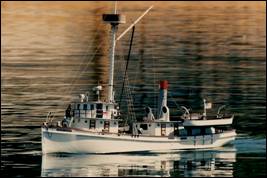 VENTILATORS – 2 OR 3 REQUIRED DEPENDING ON SHIP
PRICE:  $ 20.00ea.
HMB-72PL – PLANS
PRICE:  $ 85.00
MOTOR # 6373
PRICE:  $ 70.00
RUNNING GEAR PKG. – PROP, PROPSHAFT, STUFFING BOX
PRICE:  $ 80.00
VIPER/MARINE-15 – SPEED CONTROL
PRICE:  $ 55.00